The term 'Boutique Fitness' is not new but is definitely an upcoming and outgrowing trend in the fitness arena. Back in the day, word "fitness" was associated with bodybuilding, weight lifting or in other words, anything to do with a person's physical image but things have changed. There is now a shift in a general understanding of 'fitness' – it is a complete package of Mental and Physical Wellness.
This has created a new boom in Yoga, Meditation, Pilates and other more personalized training ideas as opposed to your traditional gyms – and Voila! We have boutique fitness and wellness studio!
These are normally small to medium sized places, ranging anywhere between 700 – 3000 sq. feet and serve to an audience who ideally treats the fitness as an experience, infact an intimate experience rather than a routine. The motivating music playing in the studios, energetic people around you who have a similar appealing mindset, a mind-blowing instructor who knows your name and also their eye-catching and ritzy ambience – plays a major role in getting people in the door and thereafter keep them coming!
Australia has always been at the forefront of fitness trends and overall fitness industry. There are certain cities even that have an underlying health and fitness attribute to it. For example, if you hear Byron Bay- meditation and yoga comes to mind; whereas Melbourne has been Australia's sport epicenter on health and fitness scene.
As a passionate Melbourne-ian, I really want to give a special shoutout to some amazing boutique fitness studios that can make a lot of health and fitness fanatics consider them moving out here.
THE HIIT FACTORY
As the name suggest, it is an amazing studio focusing on high intensity workouts that predominantly use body weights only. They operate out of a few locations in Melbourne and most of them also have child friendly areas so mums have no excuse for not working out!!! Currently they have Lockdown Leandown Online Challenge worth checking out. 
Web: https://thehiitfactory.com.au/
Instagram: @thehiitfactoryhq
BODHI & RIDE
This studio stands true to its name where Bodhi- that translate to enlightment- is attained by their typical 45-minute ride class. A combination of loud fast paced music with different light settings makes you paddle harder on the back and feel enlightened after the end of the session. This nightclub like studio takes indoor cycling to a whole different level. J
Web: https://www.bodhiandride.com.au/
Instagram: @bodhiandride
R.A.W studios
This place offers a lot of options, which may tickle your fancy – yoga, dance, martial arts, functional training, and meditation. Infact, after burning your unwanted calories, you sure can treat yourself at Izakaya Den who are one of the bespoken Japanese diners in Melbourne. Located in Melbourne CBD, they have a fantastic ability to tailor your fitness routines around your busy schedules whether it is a slow-flow yoga after work or even HIIT session in your lunch break. It is a perfect place to get your Zen back. 
Web: http://raw-studios.com.au/
Instagram: @r.a.w.studios
5th Element Wellness
This studio is a home away from home one can say! Just like the 5 elements, namely -Fire, Earth, Metal, Water and Wood -dictate the world, our body is also commanded by 5 elements – Strength, Detoxification, Stress management, Nutrition and Mobility. These elements are essence of 5th Element Wellness as they offer services of a yoga studio, PT studio and even an indoor climbing wall. The cherry on the cake is their juice bar and a library well stocked with wellness books and magazines.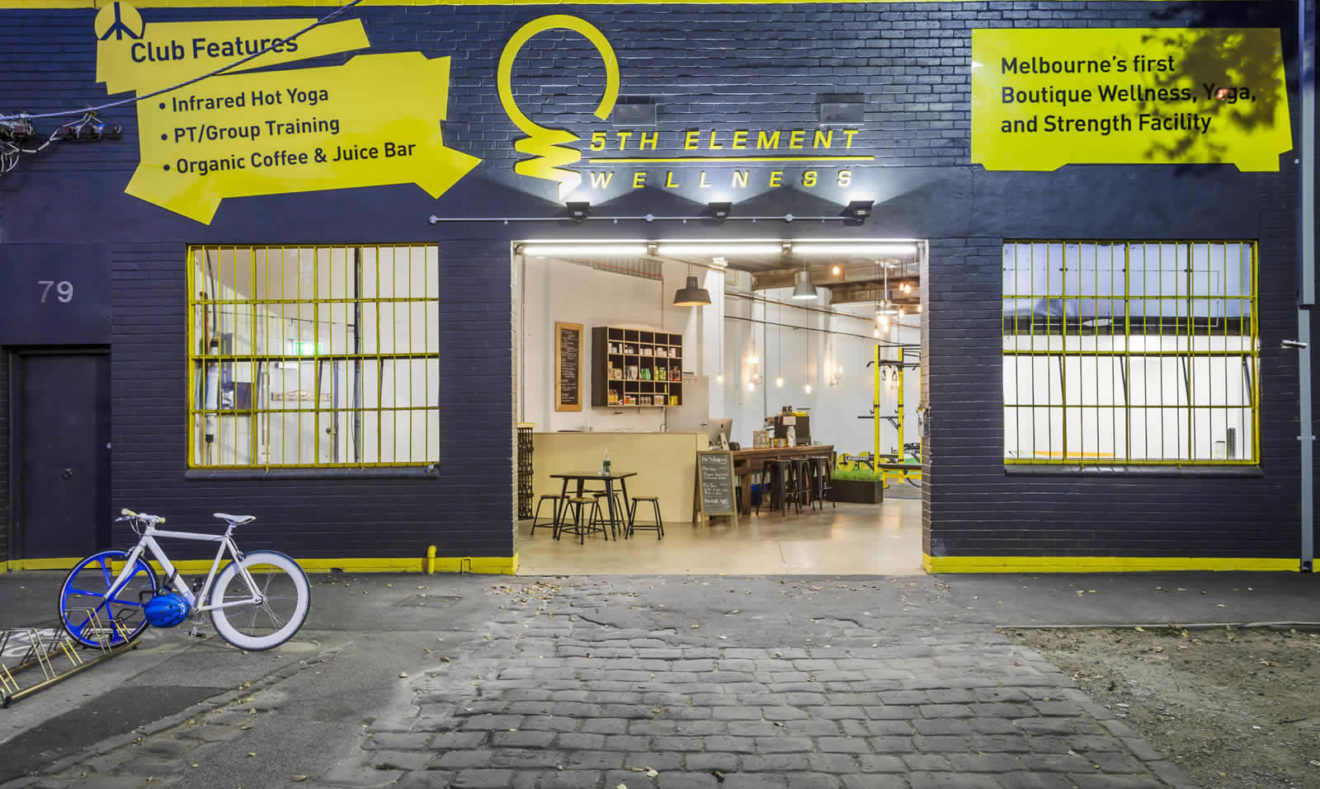 Instagram: @5elementwellness
Blog By: 
The ActiveEzy Team